BONFIX Aluminium press system
The superior quality you've come to expect of Bonfix!
BONFIX B.V. supplies a wide range of aluminium press fittings and pipes under the brand name BONFIX. The system can be used for drinking water and central heating systems, both low and high temperature types. This system comes with a system warranty of:
no less than 10 years!
The system warranty is effective only if the pipe and the fitting originate from BONFIX B.V. and have been installed in accordance with the installation instructions of BONFIX B.V. with an approved machine with a TH - H - U - B - F and CH profile press tool or a manual press with these profile press tools. As well as the KIWA Water Mark, the system also comes with the KOMO Mark. KOMO is a collective mark that is used in the Dutch building industry, in the residential and non-residential construction sector and in civil and hydraulic engineering. These marks are administered by the KOMO Foundation.
Benefits of this system:
It's not for nothing that you choose BONFIX:
The fitting and the pipe bear the KIWA Water Mark and the KOMO mark
The system comes with a 10-year warranty
The fittings can be sealed with the following profile press tools: TH - H - U - B - F and CH
Can also be sealed with a manual tool up to 32 mm.
LBP - LeakBeforePressed function
The system can be used for legionnaire's disease prevention
Each fitting size has its own colour code
The fittings and the pipe meet the requirements of the European UBA list
All wires are conical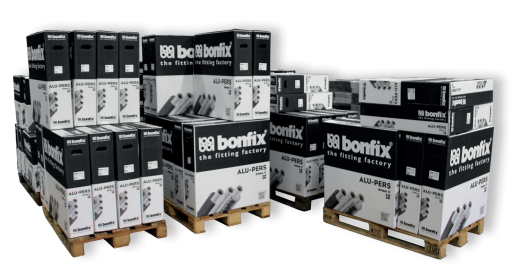 The benefits of the aluminium press pipes:
100% airtight
The pipes are corrosion-resistant
They are durable: the smooth surface offers the medium little resistance.
There is little or no noise when the medium is transported
Lightweight
Long life cycle - about 50 years for normal use
No chemicals are used in the production process, which makes the pipe ideal for transporting drinking water.
The pipe is easy to bend into the desired form and will not unbend. NB: be sure to use the right tools for this.
The maximum constant temperature of the pipe is +70 °C
The length (per metre) is indicated on the pipe.
Benefits of the coloured aluminium press rings:
Ensures the correct position in the TH-profile press tool
The ring is designed to prevent the aluminium of the aluminium press pipe from coming into direct contact with the bronze of the fitting, which rules out electrolytic corrosion
The special nylon-reinforced ring provides stability and shock-resistance, even at low ambient temperatures.
The inspection windows at the bottom of the plastic make it easier to position the pipe during installation. These openings also show a droplet if the fitting is taken into use without being pressed (Leak Before Pressed function)
Each size up to DN 32 has its own colour